National Hammock Day: A Day For Relaxation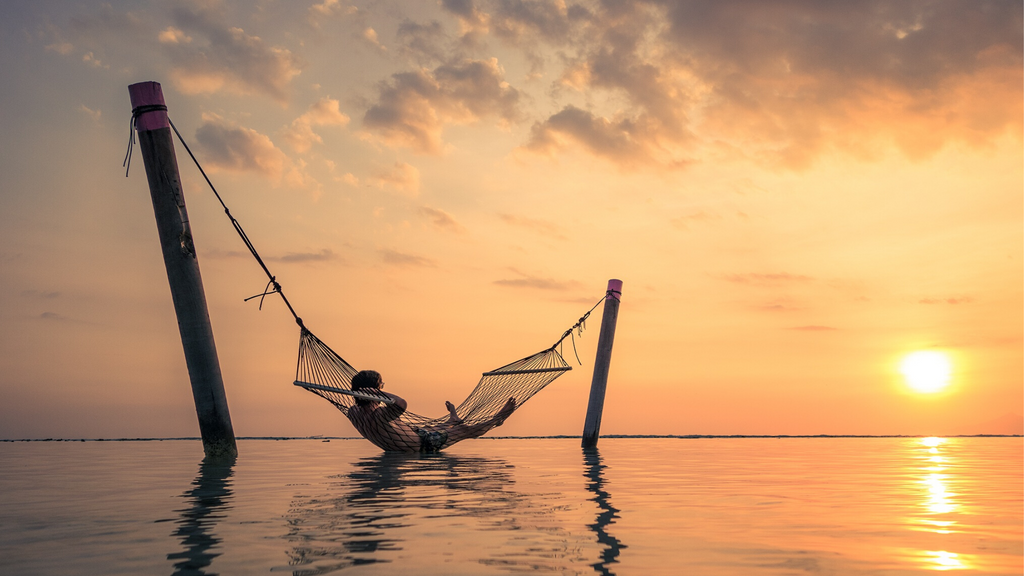 Celebrate National Hammock Day! Who even knew this was a thing? Social distancing and pandemic-induced stress is real. I get it, we all need to stay safe, but we also need some fun and relaxation, right? 
Here are 10 Pandemic-Proof ways to relax, including a few hammock-friendly options:
Relax in a Hammock:  

Did you know exposure to sunlight releases serotonin, the "feel-good" hormone? So, kick back in your hammock and catch some rays for a sunny mood-booster.

Make Art or Sing:  Maybe you're thinking "I can't draw" or "I can't carry a tune". But that's hardly the point. This is for your eyes and ears only. Tapping into your creative side is a great stress-reducer!
Practice Self-Care:  

Is there anything more relaxing than yoga or a spa day? Maybe whip up a homemade facial, or strike your best downward facing dog. Pampering yourself feels good and is naturally relaxing.

Eat a Healthy Snack:  

As tempting as it might be to plunge off the healthy-eating wagon, sugary treats will make you jittery and lethargic. Instead, munch on nuts, cheese, or an herbal tea, chock full of antioxidants. 

Listen to Some Tunes:  

Music has a calming effect on the brain, by reducing cortisol, the stress hormone. Stretch out in your hammock with a nature soundtrack, or something more upbeat if you're in the mood for a dance party!

Take a Walk or Create Movement: releases endorphins which can improve mood and create a natural euphoria. So, does wine btw…just sayin'.
Soak in a Bubble Bath:  

Technically known as hydrotherapy, a hot shower or bath can calm tense muscles and release tension. Sooo relaxing!

Organize Something:  

It might sound weird, but organizing your home or workspace can reduce anxiety. When everything's in its place, you feel more in control. Some people say cleaning is their meditation! 

Plan a Zoom Party:  Are you missing your family or BFF? Set a virtual date for cocktails or to watch your favorite TV show together. Laughing and silliness is one of the BEST relaxation techniques.
Indulge in Retail Therapy:  In your hammock. Why the heck not? Grab an icy beverage, your mobile device, and shop for a new pair of shoes, some sexy jewelry or a fresh new fragrance. 
Have fun with any or preferably all of these techniques, but most importantly, DON'T feel guilty about relaxing… you deserve it!